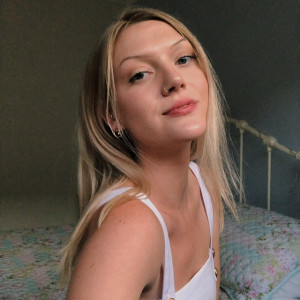 Availability
Around Narellan
Saturday

11:00 AM - 4:00 PM
About
Hi! I've just completed my HSC having studied Adv. English, Visual Arts, Ancient History, Business Studies & Drama. I have a love for each of these subjects, but my passion lies in English and creativity in general! I am happy to offer help to students either studying in year 11/12, or any younger students who may need help with their studies.

I received band 6s in both Visual Arts and Advanced English in my HSC exams and would love to help others achieve the same results.

I am available to provide tuition to other young people studying these fields, and would love to guide other senior students to success in both English-based and artistic fields!

It's my goal to develop a close academic relationship with each of my students, and really getting to know them in order to better understand exactly what they may be struggling with! It is my responsibility to deliver quality tutoring to ensure confidence in each of my students!

My future studies are set on Criminal Justice and Law because of my deep interest in helping others: I'd love to help you, too :)

I am open to negotiation regarding travel, and I have flexible availability. I'm willing to work both weekends/weekdays; just shoot me a message and I'm sure we can work out a time to suit us both!
Achievements
2018 School Captain of Camden High School
First in Visual Arts
State Drama Ensemble member
Within top 3 of all of my subjects
Band 6 in Adv. English HSC
Band 6 in Visual Arts HSC
Member of Global Leaders Program at WSU
Member of The Academy at WSU
Education
Year 12 student.
Currently studying at Camden High School.
Interests
Writing
Reading
Theatre
Art
Movies
---
Write a review
Character references
Write a reference
Services
One-to-one tuition
Home visits
Phone help
Online help (Skype)
Subjects
Ancient History
Business Studies
Drama
English
Visual Arts
Tutoring students in
Year 12
Year 11
Year 10
Year 9
Year 8
Year 7
April can be found among