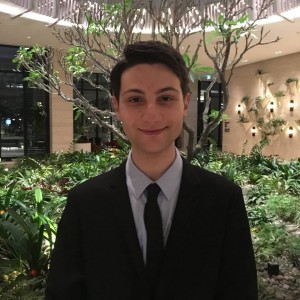 Verified mobile
Verified marks
Availability
Around Kingsley
Tuesday

4:00 PM - 9:30 PM
Travel policy
I am willing to travel to your house if you are within a reasonable distance.
About
Hi, my name is Jordan. I am an experienced tutor and would love to tutor any students in English, Literature, Media Production & Analysis, Psychology and Religion & Life.

I am currently a university student studying Psychology and Sociology. In 2017, I graduated from Sacred Heart College, Sorrento, where I achieved an ATAR of 96.6.

I am a hardworking and responsible person, with a range of academic and personal achievements. I would love to help others broaden their knowledge and subsequently improve their grades. Patience and understanding are also qualities that I believe are very important in tutoring.

As a top student in English and a recipient of numerous awards in the ICAS English and Writing competitions, I am fluent in written communication and concise with editing work. As well as achieving a scaled score of 80.3% in Literature, I also achieved very high results throughout my schooling in other subjects, such as Psychology, Media and Religion and Life.

I will provide extra resources, such as notes, past exam papers, essays and practice tests.

Please feel free to contact me should you have any enquiries.
If you are unable to contact me through this site, you may also email me at:
jordangal99@gmail.com
Achievements
96.60 ATAR achieved in 2017
Certificate of Distinction from SCSA - 2017
6 Academic Honours for high academic achievement
4 Dean's Awards for positive learning attributes
Credit in the Rio Tinto Big Science Competition
Credits, Merits and a Distinction in ICAS English and Writing Competitions
14 subject merit awards - including Psychology, Religion and Life, Media, History and English, among others
Nomination in the Western Australian Picture Book Competition
Top student in English - 2012
Runner-up award for Media Production and Analysis - 2015
Runner-up award for Modern History - 2015
Top student in Media Production and Analysis - 2016
Education
Year 12 completed in 2017.
Mark achieved: 96.60 (verified).
Currently studying Psychology and Sociology double major at Murdoch University.
Interests
Creative writing
Reading
Music
Playing piano
Playing tennis
Photography
Travelling
---
Write a review
Character references
Write a reference
Services
One-to-one tuition
Group tuition
Home visits
Phone help
Online help (Skype)
Subjects
English
Essential English
Film
Literature
Media Arts
Psychology
World religions
Tutoring students in
Year 12
Year 11
Year 10
Year 9
Year 8
Year 7
International Baccalaureate
Jordan can be found among