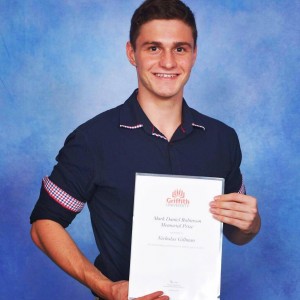 Availability
Around Surfers Paradise
Sunday

7:00 AM - 7:00 PM
Saturday

7:00 AM - 7:00 PM
Travel policy
I tutor at Griffith University or the Southport Library
About
Current 2nd year medical student with a GPA 7 who graduated in 2015 with a high OP 1. I have tutored hundreds of hours in each English, Maths B and C, Chemistry, Biology, French and History over the past three years at both a high school and university level. During this time I have completed a Bachelor's Degree in Medical Science with Distinction, and am entering my second year of medical school.

I am passionate about helping students achieve their academic potential. I have honed my schools, drawing upon both my university and high school experience to assist students looking to dramatically change their results, as well as high achieving students wanting to further their academic aim. I also offer mentoring for aspiring physicians especially regarding time management, efficient study techniques and research technique.

I offer a range of packages (pending sign up) which are as follows:

Individual tutoring (1 -3 hours) - $50/hr
This includes writing a detailed study plan with the students that works around their life in order to strike a good balance between study and lifestyle.

Group tutoring (1 or 2 hours) - $30/hr
Group tutoring is a great option to learn the fundamentals through active lecture-style teaching. The didactic model used in many schools does not work for many students, and I have developed a way to engage the students in smaller groups in order to facilitate the learning of hard to grapple with problems. This will be offered in packages such as 'Year 9 Maths' or 'Year 8 Science', and is a great option to sign up for if you have a group of people genuinely interested in reaching the next step in their academic potential. Availability is pending sign up so if you are interested please contact me and perhaps refer another student in order to ensure this service is available.
Achievements
High OP 1 ATAR (99.75)
Bachelor of Medical Science (With Distinction)
Mark Daniel Robinson Memorial Prize
George Weatherlake Memorial Prize
Griffith University Award for Academic Excellence
Education
Year 12 completed in 2015.
Mark achieved: 99.75.
Currently studying Doctor of Medicine at Griffith University.
---
Write a review
Character references
Write a reference
Services
One-to-one tuition
Group tuition
Phone help
Online help (Skype)
Subjects
Biology
Chemistry
English
English ESL
English Enrichment
English Essentials
English Mainstream
French
Geography
History
Mathematics
Mathematics A
Mathematics B
Mathematics Enrichment
Mathematics Essentials
Mathematics Mainstream
Music
Music Core
Philosophy
Religion and Ethics
Science
Study of Religion
Tutoring students in
Year 12
Year 11
Year 10
Year 9
Year 8
Year 7
Nicholas can be found among