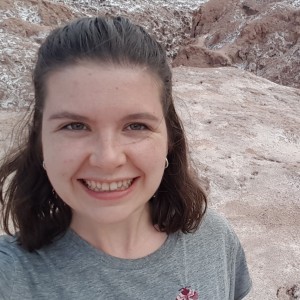 Verified mobile
Verified marks
References
Availability
Around Camperdown
Monday

4:00 PM - 8:00 PM
Tuesday

4:00 PM - 8:00 PM
Wednesday

4:00 PM - 8:00 PM
Thursday

4:00 PM - 8:00 PM
Around Leichhardt
Monday

10:00 AM - 12:00 PM
Tuesday

10:00 AM - 12:00 PM
Wednesday

10:00 AM - 12:00 PM
Thursday

10:00 AM - 12:00 PM
Travel policy
Will travel to student's house if specifically required (extra $10 if outside of Leichhardt/Haberfield area).
About
Hola, my name is Iris! I graduated high school in 2012 with an ATAR of 92.15, and I am about to commence an Honours year in Linguistics at the University of Sydney.
I started studying Spanish in primary school, then took it up again for my HSC (I received a Band 6 result of 95/100). I continued to study the language for two years at university, as well as going on a six-month exchange to Santiago, Chile, where I completed a semester of full-time study in Spanish. I love the Spanish language and Spanish/South American culture, and I am passionate about language education in general.
I am located in the Inner West, and would meet students in public local areas such as libraries (or in some circumstances travel to their house).
Rate: $40 per hour, or $60 for 2 hours.
Achievements
Oustanding Achievement and Exemplary Attendance awards (year 12 2012)
Accepted into and completed 6-month exchange at Universidad de Chile (Santiago, Chile) - full time study in Spanish
Accepted into an Honours year at Sydney University in Linguistics
Education
Year 12 completed in 2012.
Mark achieved: 92.15 (verified).
Currently studying Bachelor of Arts/Science (Honours in Linguistics) at The University of Sydney.
---
Write a review
Character references
Hola everyone! I highly recommend Iris as a Spanish tutor - she is warm, friendly and super helpful. In her own language learning, she is motivated, passionate, and genuinely enjoys it, and will definitely inspire you to enjoy learning and discovering the wonders of Spanish! And if you need help getting on top of your workload, Iris is an organised and independent learner who can help you develop the right skills and get up to speed.
- By Leila Williamson on 5th February 2018
Write a reference
Subjects
Spanish
Spanish Beginners
Spanish Continuers
Tutoring students in
Year 12
Year 11
Year 10
Year 9
Year 8
Year 7
International Baccalaureate