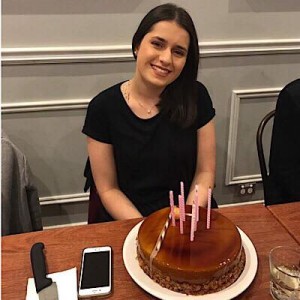 Verified mobile
Verified marks
References
Availability
Around Paradise
Sunday

7:30 AM - 9:00 PM
Travel policy
I am very willing to travel up to 35 minutes away from my home in the Paradise/Campbelltown/Newton area.
About
Hello, my name is Ella. I am currently in my second year of study at the University of Adelaide. I am a really passionate learner and I am keen to help you with most aspects of your high school learning.

I want to motivate you and guide you through any academic struggles you have. Together, we can achieve the goals you want and the type of learner that you want to be!
Achievements
Year 12 Music Capitan
Many awards for leadership and service
Generations in Jazz Division 4 Winner 2016
Year 12 Performing Arts Shield
2 Academic Awards during High School
Education
Year 12 completed in 2016.
Mark achieved: 85.50 (verified).
Currently studying Bachelor of Languages at The University of Adelaide.
Interests
Singing (Jazz and Broadway)
Learning Languages
Training Guide Dogs
Baking
Reading
---
Write a review
Character references
Over the years I taught Ella, I found she was enthusiastic, positive, trustworthy and above all had a strong motivation to achieve her best. Ella listened to instructions, asked questions to clarify concepts and broke down complex tasks into achievable steps.

It is with confidence that I can say that Ella would take a similar approach with tutoring a student: listening to the individual context, clarifying what is known and what is unknown, then constructing steps to improve the outcome.

Above all Ella would do all this with a friendly smile and a positive and cheerful manner. I believe if a student was experiencing difficulty with subjects at school then a tutor such as Ella would make a significant difference in the student's learning and well-being.

I have no hesitation in recommending Ella as a tutor.
- By Gavin Hughes - Head Of Music, Mary MacKillop College on 19th September 2017
Write a reference
Services
One-to-one tuition
Group tuition
Home visits
Phone help
Online help (Skype)
Subjects
Ancient History
Dance
Design and Technologies
Digital Technologies
Drama
English
English as an Additional Language or Dialect
Essential English
Geography
Health and Physical Education
History
Italian
Literature
Mathematics
Media Arts
Modern History
Music
Science
Visual Arts
Work Studies
Tutoring students in
Year 12
Year 11
Year 10
Year 9
Year 8
Year 7