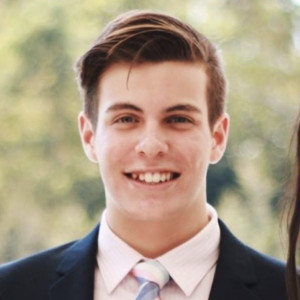 Verified mobile
Verified marks
Availability
Around Beaumont Hills
Tuesday

6:30 PM - 10:00 PM
Wednesday

8:15 PM - 10:00 PM
Around Pemulwuy
Sunday

5:00 PM - 10:00 PM
Monday

5:00 PM - 6:45 PM
Monday

8:15 PM - 10:00 PM
Friday

2:00 PM - 5:00 PM
Travel policy
I come to you!
About
Hi, I'm Daniel, and I am currently undertaking a Bachelor of Actuarial Studies at Macquarie University.

As of 2018, I have a GPA of 6.85/7.00, with marks of of 95/100 and 88/100 in First Year University Mathematics, and scores of 80+ (Distinctions+) in all other subjects.

Note — due to high demand, I am only taking on Year 10, 11 and 12 students, and specialising in high achieving students looking to obtain even better results.

I graduated Year 12 in 2016 with an ATAR of 97.95, having completed both Mathematics Extension 1 (94) and Mathematics Extension 2 (86).

Having achieved a 90 in Advanced English, communication and teaching skills are excellent.

I am very passionate about helping my students achieve their very best, and I am able to provide incredibly productive tutoring sessions to students of all ability levels. With particular focus on developing a genuine understanding for Mathematics, I aid students in their revision strategies and exam techniques.

I get to know the strengths and weaknesses of my students so that I can mentor them to achieve their very best. By encouraging their strengths and improving their shortcomings, academic improvement is guaranteed!

Additionally, I have a valid NSW Working With Children Check: WWC1240504E

Rates:
$50 per hour for Year 11/12 HSC Students
$45 per hour for Year 10 Students
Achievements
ATAR 97.95 - HSC 2016
GPA 6.85/7.00 - Macquarie University 2017
Mathematics Extension 1 - 94 - HSC 2016
Mathematics Extension 2 - 86 - HSC 2016
Education
Year 12 completed in 2016.
Mark achieved: 97.95 (verified).
Currently studying Bachelor of Actuarial Studies w/ Bachelor of Science, Majoring in Mathematics at Macquarie University.
Interests
Mathematics
Singing
Music
Songwriting
---
Write a review
Character references
Write a reference
Services
One-to-one tuition
Home visits
Online help (Skype)
Subjects
Mathematics
Mathematics Extension 1
Mathematics Extension 2
Mathematics General
Daniel can be found among